Kids just want to play songs and have fun learning. A welcoming and non-competitive group class for learning ukulele – 'The happy instrument'.
This class is no longer offered at Randwick.
Our son Riley has a ball at music group; he loves to play the ukulele with Jo. Every week he is ready to go. We love that he can play the songs at home as well.

Anne,
Parent of Riley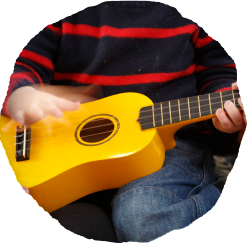 Strumming Fun - Ukulele group class (NSW Government Creative Kids Vouchers available for school aged children)
Please contact Jo Steel for information.
Join in the fun and bring your own ukulele or use ours. Learn the ukulele basics.
A small group and entry-level class, beginning with open (pentatonic) chord songs: learn to hold and strum your ukulele. Accompany songs with percussion, including the bass bars.
Discover the joy of playing simple songs, for group playing or singing solo.
Progress to learning chords, playing original Ukubebe 1 chord songs, written just for beginners. Continue learning strumming techniques, learn 2 to 3 chord songs, and build a repertoire of songs that you love to sing and play.
It's a good idea to have your own ukulele, and it is requested that all children buy the Ukubebe album 'I Love to Play', so they can listen and play along with the songs at home. (hear the track previews on the 'shop' page)
Participate in and end of term 'Open session' for families and friends.
Benefits
Experience group participation and build self-esteem.
Learn musical elements of beat and rhythm, and learn chord structures.
Develop fine motor skills and co-ordination.
Support social development and listening skills.
Develop a repertoire of favourite songs to play and sing.
Develop a life-long love of music.
General Information - this class is currently not on offer, we're sorry.
Bookings are essential.
All classes are in the Ukubebe Room, downstairs in 207 Avoca Street Randwick. Please enter though the Educational book and toy-shop 'Laugh and Learn'. Parking: 2 hours free parking is available in the Royal Randwick Shopping Centre: car park entrance is on Avoca Street. (Northbound)
The term fee is due before the start of each term
The NSW Creative Kids Voucher may be used to pay your term fee.
All classes are 40 minutes duration.
Parents and carers are invited to sit in at least the first session with the children. All adults are requested to refrain from talking during the session. Parents may drop children after signing in, and must personally collect and sign their child out of the session. Parents and friends are invited to an open session at the end of term, to enjoy the progress! This is non-competitive class.
You can make a booking here.
Fees and missed classes
Information about fees can be found here.
If a class is missed, it may be possible for you to bring a guest in lieu of a missed class. If the teacher cancels a class, your fee is credited or refunded as suits you.