Weekly music and movement classes, designed for babies, toddlers and preschoolers. Young children love to sing, dance and enjoy musical play.
Ukebebe is the best time of our week. Jo is so professional and knowledgeable. She has the most creative ways to teach music without it seeming like teaching. My 3-year old daughter absolutely loves it and now has a wonderful appreciation of music and a great imagination to go with it. Jo plans each class with a familiar structure and lots of great materials to explore. The best activity we do by miles!

Jodie,
Parent of Ellie - 3 years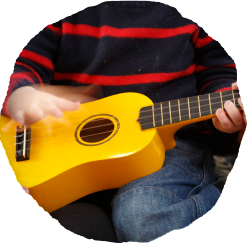 Early Childhood Music and Movement Classes: Thursday and Fridays..
2023 Term 3 has face-to-face classes at our Randwick venue.
Randwick classes taught by Jo Steel, Ukubebe Owner: downstairs in the Laugh and Learn toy Shop 207 Avoca Street Randwick.
NSW South coast classes taught by Joanne Steel in Moruya - Batemans Bay. (presently on hold- please contact Jo)

Kindly remove shoes on arrival and hand sanitise. We all maintain social distancing in the classes. All children use their pre-purchased percussion and resource kit, so we can avoid unnecessary contact from handing out props etc.
The Ukubebe Early Childhood Music and Movement program is created for babies, toddlers and preschool children, and we cater to the needs of each group.
Ukubebe combines music learning with an educational philosophy, embracing the whole development of the child. Our approach is informed by the methodology of prominent world music educators Orff, Kodaly, Dalcroze and Suzuki.
For babies there is a slower pace and multi-sensory experiences. For toddlers there's plenty of action and spontaneous discoveries, and for preschool children, the development of social skills, humour, and extension.
We play ukulele using 'open chord' songs in every session. These simple songs (pentatonic) extend musical play and encourage a love and enjoyment of singing. We foster the development of children's singing voice and learning the basic elements in music: keeping the beat, learning rhythm, tempo, pitch and dynamics.
Bring your ukulele if you like, join in and have lots of fun.
Early Childhood Music and Movement Class Times
Randwick
Friday at Randwick - downstairs 207 Avoca St Randwick ( Laugh and Learn Toy Shop)
We are Offering two weekly class for term 3.
Thursdays Babies class 0-1.5 years at 1pm
Fridays mixed age class 0-5 years at 9.20am
NSW South coast Moruya - Batemans Bay Day and Venue to be advised for 2023 Term 3 please contact Jo
General Information
Bookings are essential, no unannounced class drop-ins are offered.
2023 Term 3 dates: from Thursday 3rd August to Friday 6th October (Please note the delayed start as Jo is a on leave)
Siblings in the SAME class are charged $15 per class.
All classes are 40 minutes duration.
Parents and carers are encouraged to participate with the children. All adults are requested to refrain from talking during the session.
You can make a booking here.
Fees and Missed Classes
Information about fees can be found here.
Make up classes may be possible for a missed class due to sickness, if you give us notice. A missed class without notice cannot be made up, as the place has been forfeited, when another family could have used the spot.
If a class is missed, a make-up class may be arranged, depending on numbers (please contact Jo). It may also be possible for you to bring a guest in lieu of a missed class. Please take up your make-up class during the same school term as your absence