Ukubebe is a provider of quality music programs for children's learning and wellbeing. Classes offer music learning experiences for children 0-5 years, and support the development of the whole child in a creative, musical environment, that is non-competitive and fun.
Ukubebe is FANTASTIC. As an early years practitioner (and professional nanny), I have to say this is the BEST music program I've come across in over ten years. I would highly recommend this music group to anyone who wants their child to engage with a feel good, really natural and free-flowing session! The energy Jo (the Music Instructor) creates is loving, encouraging and musically educational.

Hayley,
Educator
Direct License Policy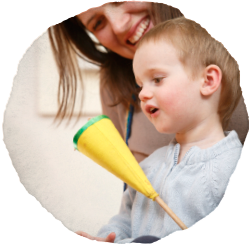 Our programs are currently face-to-face in Sydney and NSW South Coast.
At Ukubebe we specialise in high quality, active music and movement classes, laying the foundation of music learning and enjoyment for life. Ukubebe combines music learning with an educational philosophy, embracing the whole development of the child.
Ukubebe validates all musical efforts. We value live music making.
*Early Childhood Music and Movement: ages 0-5 years

There are currently no online classes while we are able to offer face-to-face classes at Randwick and Batemans Bay.
All classes are 40 minutes duration and take place in the Ukubebe Room at 207 Avoca Street Randwick, Sydney. (venue is down stairs at 'Laugh and Learn' educational book and toy store)
Batemans Bay classes are presently on hold, for the start of term 2. Please contact Jo, classes will run to demand.
Please go to the Our Programs page, for more information about classes and session times.
Our sessions
In a Ukubebe music and movement class, children and adults:
Participate in group classes that are designed for individual success and enjoyment.
Develop musical ideas, songs, games and dances that promote well-being, socially, physically, emotionally and mentally.
Experience a variety of music, including world, folk, classical, and traditional and contemporary children's music, as well as original music; including the children's own songs.
Explore musical elements of beat, rhythm, pitch, tempo and dynamics through rhymes, singing, echo songs and games, movement and dance, playing percussion instruments and improvisation.
Enjoy story time and relaxation.