Ukubebe comes to your child care centre for fun, interactive music sessions during school term. The program is varied and designed to support and inspire staff, with lots of easy ideas to make music a happy learning experience.
We have been enjoying Ukubebe for 3 sessions a week at our service for well over two years now, and we have never looked back.
The Ukubebe music sessions have brought to our service many hours of wonderful rich learning moments for our children and educators, which nourish our souls.
Jo from Ukubebe has a wealth of knowledge to share with us each week and has taught us over the years how to incorporate music and movement into all the key learning areas of our program.
Jo's program is extensive and continually inspires and amazes us each week. If you have the opportunity to have Ukubebe come into your centre life you will not be disappointed and your service program will be enriched beyond what you could have ever imagined.

Ann-Mares Chesters,
Director, MarliMarli Day Care
Jo's weekly music sessions at our playgroup are extremely popular. Jo's passion for music is infectious.
The joy you see on the faces of the babies and adults is priceless.
Her breadth of knowledge and enjoyment of music is evident in the wide range of music she shares each week.

Louise de Lorenzo,
Parent Support, Holdsworth Community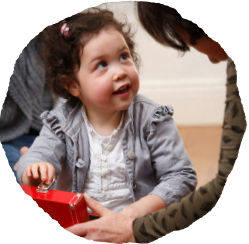 Ukubebe program
Current NSW Department of Health advise is that music classes for early childhood are considered essential for children's well-being and development, and may continue in the context of COVID safe plan. Our lessons are made non-contact and can be taught outdoors if appropriate to your service.
We bring the Ukubebe program to your centre on a regular basis. Teachers and carers don't need to be experts, just enthusiastic, to help children learn through musical play. We provide musical instruments, including ukuleles, and can also utilise your own resources. Every week you receive a new session plan, with lots of ideas for easy follow-up and implementation in your program. Each week the session is planned through ' EYLF Outcomes'.
Class size and duration
Classes can accommodate 10–15 children.(more for a pre-school age group) Educators remain with children at all times.
Classes operate each week, and are 40 minutes in duration. Educators are encouraged to participate in the music program with the children, and use the ideas and songs in their own program.
Booking a program
Your centre is welcome to a trial session for the 'single stand-alone class' fee of $90 (+ GST)
This fee is deducted from any term fee, or permanent booking going forward . Bookings are essential. You can make a booking for your Centre here.
Fees and missed classes
Information about fees can be found here. If a class is missed, a make-up class can sometimes be arranged. However, due to timetable constraints, this is not always possible. If a make-up class cannot be arranged, a credit is given in the subsequent month's invoice. Contact Jo to discuss arrangements.