Our professional development workshops reinforce the benefits of a musical journey, explore holistic education, boost your confidence in areas of creative expression, and help you integrate music concepts into the daily program.
Thank you so much for running the Workshop here at Ballykin for the staff.
They were so excited to come to work yesterday and share their new songs with the children.
From the office I could hear the girls using singing for their transitions, which was just so nice to hear!
The children have really enjoyed learning some new songs as well as listening to their favourite stories being sung to them.
So thank you for refreshing the staff with new ideas and motivation to use music more in their program. It is exactly what I was hoping for when arranging the course.

Amy,
Director, Ballykin Rose Bay. November 2012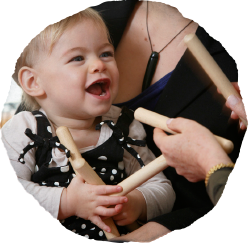 Ukulele for educators
Either:
A single session, after hours, giving you the basic tools to start incorporating the ukulele into your daily program. Ukubebe provides ukuleles and it's lots of fun. Learn to play songs that you love, using just two chords, or compose your own songs.
A four-week course of one-hour sessions, where we come to your service and help you actively use ukulele in your daily program. Discover how ukulele playing can assist you with transitions, group times, settling and comforting children, and enjoying playing and singing favourite songs.
Professional Development Workshops
'Sing, Play and Move' - a start or refresher in the basics of music and movement in early childhood.
Music to support children's well-being through song, dance and movement.
Music to support social development - (ideal for older Toddlers and Preschoolers)
Music for building self esteem and resilience in young children.
Using music in emergent curriculum, through structured and un-structured musical play.
Music and multi-sensory resources - (ideal for babies, toddlers and children with additional needs)
Music for routines and transitions.
You are welcome to choose your own subject, as focus for your workshop.
Booking a workshop
If you are interested in having a staff Professional Development workshop in your venue, please contact Jo.
Fees; Hourly rate for Professional Development Workshops is $200.00 (+ GST) (this is for up to 10 people) additional costs for more than 10 - minimum of 1.5 hours.